Okay, everyone. For a variety of reasons, I have decided to move my blog from LiveJournal to Blogger. The customization options at Blogger are better, they support JavaScript, and everyone else's blogs are there and I'm a follower. ;)
SO! Not that I'm operating under any delusions that anyone looks at this, but if you do, please update your bookmarks to point to the following:
http://armedandslightlydangerous.blogspot.com
Goodnight, and have a pleasant tomorrow.
Firstly, allow me to apologize once again for not posting in 2935879384 years. Holidays, busy, blah blah blah. I haven't been doing much crafting of note anyway.
As you may recall, the
hat
I made to wear with my green-gold surcoat was evil and had to die. What I really wanted was an attifet, but I couldn't find a pattern for one ANYWHERE. I have been able to find free instructions on how to make pretty much any hat from the Renaissance, but I couldn't find attifet instructions to save my life.
My friend
Peggy
was able to save the day, however. She has an attifet pattern, and she was kind enough to lend it to me. She has been very patient, because she gave it to me in June, I've seen her twice since then, and I've only just gotten to the finishing stage. I did a mock-up right off the bat, and got the fashion fabric all cut out, but then I ended up putting it aside for various reasons and only just came back to it.
This pattern is pretty straight-forward in all honesty. It only involves 3 pattern pieces...a large circle, a band (you cut two), and a triangle-ish piece which forms the brim (you cut two of these as well). You stick some wire in the brim and there you have it.
Of COURSE I didn't take progress pictures because I never remember to take progress pictures because I am lame. I did, however, take pictures of the hat once it was constructed:
Pretty snazzy, huh? The last touch will be a square yard of some light, lovely fabric trimmed in lace fastened on to be a veil, like this: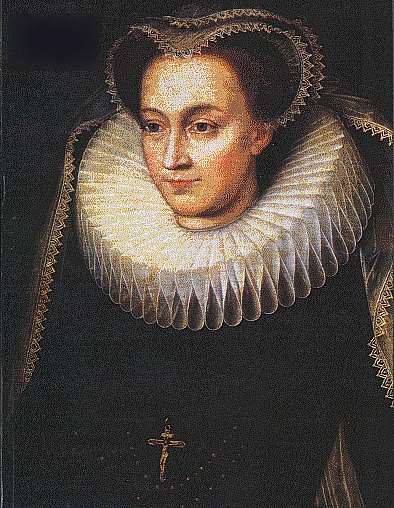 I think I will also do something along the edge of the brim...maybe not lace; perhaps some pearls or something.
I have decided that, in order to keep myself busy and to try and make a little money during this period of "Funemployment", I'm going to start an Etsy shop. I'm going try and sell some nice Elizabethan purses and pouches and hats and things. Maybe some smocks and shirts. I don't know if I'm going to get crazy enough to try actual garb...in any event, it'll have me doing something more productive that sitting on the couch, messing around on the laptop and watch Star Trek. :)
Tomorrow I'm going to the fabric store to supplement the supply of stuff I have on hand and start getting some stuff listed. I'm hoping to have a handful of items by the end of the week. Then we'll see what happens.
It has been seven weeks since my last blog update. However, this does not mean that I have been idle on the crafting front.
When we last left our heroine, she was frantically getting her ass together for a trip to the
Minnesota Renaissance Festival
. She had successfully constructed a lovely shirt for her good husband, and had gotten the wool for his Great Kilt trimmed and the ends hemmed (although I don't remember if I mentioned that or not).
In the process of doing this, that or the other, however, I did start running out of time for my own garb. As you may recall, I bought a couple of brown herringbone patterned tablecloths on clearance at Shopko and had a grand plans to make myself some kind of working class Tudor-ish-era gown out of it. I also had grand plans to make myself a new smock. The one I have has narrow sleeves, for wearing underneath the fitted sleeves on my comfort gown, and I really would have liked something with puffier sleeves to wear with my working class kirtle. I'll tell you right now that I ran out of time to even think about that, let alone pick out and order fabric for it.
So with two days left before we had to leave the Great State of Wisconsin for this trip, I started my gown. I used the
custom corset pattern generator
from the
Elizabethan Costuming Page
, and had Justin take my measurements. I punched them all in and drafted up the pattern, fully expecting it to work as perfectly as it did when I made Darcy's gown.
Well, it didn't.
I used the pattern to make up a quick mock-up to make sure that everything was going to work, but it looked like hell. It didn't fit at all. I didn't even know what to do to make it work. I guess the measurements Justin took were inaccurate because it was WAY too big. And since I don't have a dress form or anything, I had no way of working with it to fit it and trim off the excess. So I trashed it. This was at about 11 p.m. on Wednesday. We were leaving for Minneapolis directly from work on Friday evening. This meant I had ONE NIGHT to figure something out. Awesome.
I really didn't want to wear my comfort gown. But I didn't have any means of making myself something else with any guarantee that it would fit. But then, in the middle of the day on Thursday, I was struck with inspiration!
I had this other costume, a completely historically inaccurate number made from a commercial pattern. I ganked this particular outfit from
The Malthouse Theatre - Home of the Haylofters
in Burlington, Wisconsin (with permission, of course). I wore it to Bristol last year and it did the job.
Isn't it awful?
However, the most important feature of this particular outfit is that it had a bodice that fit! Of course, it was made with darts which was not a technique that was used in that time period, but the end result was a garment that fit more or less the way it was supposed to. So I thought, if I deconstruct this, trim a 1/2" or so off the sides, and use this as the bodice pattern, I MAY end up with something I can work with!
Luckily for me, the shoulder straps just tied together at the top, so that was easy enough to deal with. There was some significant seam rippage going on for the rest of it, though. There were tabs at the bottom that had to come off, and several layers of fabric that were serged together so picking out the seams was fairly time consuming.
The front piece was good to go as-is, once I had it detached from the back piece. I just trimmed about 1/2" from the side to give myself some lacing room and that was done. The back I actually cut in half and trimmed 1/2" from the side and the center-back of that piece. The plan was to place both pieces on the fold of the fabric so I would have one continuous back piece and one continuous front piece, with lacing on both sides.
I had already made the decision that I was going to use a double layer of heavy cotton canvas to interline the bodice of this gown. The idea behind this is that the canvas would offer support without having to deal with boning...and at 9 p.m. on Thursday night I did NOT have time to deal with boning. That turned out to be a good decision.
I sewed the two back pieces of canvas together, and repeated the process with the front pieces of canvas. I had some duct ties left over from the boning in Darcy's bodice, so I cut four bones to put at the sides of both pieces, to reinforce the area where the gown would be laced. Once the boning was in, I very carefully sewed the canvas interlining to the dress fabric pieces that would go on the INSIDE of the bodice. This would keep the interlining from sliding around, and since it's on the inside, no machine stitching shows. Then I sewed the outside layer of dress fabric and turned the whole mess right side out. The end result was a front piece and a back piece with the brown dress fabric on the outside, and the canvas and boning sandwiched in the middle. Added bonus - all the seams were inside. Perfect.
To make sure that everything was going to fit properly, I tackled the eyelet holes right away. I positioned the holes for
spiral lacing
and got those made with the help of my handy-dandy awl, which I love with all my heart. I didn't bother with doing any stitching on these just yet. I used some kind of awesome linen cording I picked up in the drapery department at JoAnn. It's grey so it's not real pretty BUT this was a working class gown anyway and it works a hell of a lot better than ribbon.
I got the bodice laced on and imagine my delight when it fit like a glove. The gaps on the side might have been a LITTLE bit bigger than stricly proper, but I didn't much care about that. Once it was laced on I was able to, with some difficulty, get the shoulder straps pinned to the right length. The whole thing came off and stitched those puppies down with a quickness. I didn't take the time to finish the shoulder seams at all; it wasn't really necessary to make the gown wearable and I needed to move on to the skirt.
I put the bodice back on and laced it up, and then had Justin measure from the bottom of the bodice to the floor in the front, at the side, and in the back. I have a big butt so the back measurement was slightly shorter than the front, but whatever. Once I had that measurement, I took off about an inch and decided that was going to be the length of my skirt.
At this moment I decided that using a tablecloth for this was the best decision I had ever made in my life. The tablecloths were quite wide, and the edges were already finished. I had already cut into both tablecloths for the bodice - front piece and back piece out of each one - with the idea that this would leave the most length on each cloth for the skirt. It worked out every bit as well as I'd hoped. I measured from the un-cut end of the tablecloths and cut them at the proper length. I then sewed the sides together to make a tube. I left about six inches at the top of each side seam unsewn to give myself enough room to actually get into the thing. Hemmed edges = no seam finishing necessary! Woo hoo!
At this point I was feeling like I was pretty much home free...all I needed to do was attach the skirt to the bodice and I was good to go. I gathered the skirt to the bodice all the way around. I attached the skirt ONLY to the outside layer of the bodice, with the idea that I would hand-stitch the inside to enclose all the raw edges. I made several passes to make sure that the seam was strong and wouldn't rip out if I tripped all over myself or something.
Once that was done, I had a wearable gown. It was by no means FINISHED...I didn't sew any of the eyelets, the shoulder seams weren't finished, and the inside lining of the bodice wasn't attached to the skirt. However, it was WEARABLE, and that was the point! I ran upstairs to try on the entire ensemble. I threw on the smock and put the gown over it. I stole a brown leather belt from my husband and wrestled with the arisaid. That took some time but I finally got it right. I used a safety pin to attach it to my shoulder and had a look in the mirror. IT WAS FULL OF WIN AND AWESOME.
My research has informed me that married Scottish women in this time period wore a kertch, which was a one-yard square of fine white linen (usually given to the bride by her mother on her wedding day - she wore it for the first time when she got up the day after her wedding), which was folding into a triangle and wrapped around the head like a babushka. I had enough of the handkerchief weight linen from Justin's shirt left over, so I used that to make my kertch, and so I had put this together a couple of days prior to the Great Gown Adventure. It took some practice to get it on right, but it ultimately looked awesome.
And so it was that I had an awesome new outfit to wear to the Ren Fest. You can't even tell that it was made from a tablecloth. I got lots of compliments, and mad ups to Peggy for helping me lace into the damn thing. :) When I started this project on Thursday night I really expected that this would be a one-time-wear piece of garb, since I was flying by the seat of my pants when I made it. I am very pleased to say that this is going to be going into regular rotation because it turned out so well. Also? I didn't finish the eyelets on this before I wore it for the first time, and it was laced TIGHT. I did not expect the holes to hold up, but they totally did! No ripping, no stretching, no nothing. I'm actually not sure how that happened.
Here are some pictures of the finished product - I didn't get any pictures of the process because I was in such a damn hurry.
Cleavage rating in this gown: 10 out 10. Amazing.
It was also incredibly comfortable, believe it or not. Even though the fabric was a cotton/synthetic blend (though admittedly more cotton than synthetic - 65% cotton), it was light and comfy. And even though the arisaid fabric looks really heavy, it's actually extremely light. It's not woven very tightly, in all actuality, so the additional layer didn't cause me any discomfort at all.
Remember how in that post about the arisaid I talked about how you could use it to keep crap in? WELL. We were not very far into the day when we realized that the belt we brought for Justin was NOT going to work to hold his kilt up. He wasn't not having a lot of fun because he had to keep hiking the thing up. So we stopped in this random leather shop, the name of which escapes me unfortunately, and imagine our pleasant surprise when we found they had some super nice leather belts for $25! Normally that kind of thing, even a plain one with no buckle and no embellishment like what we got, is going to run you $50 or better at a Faire. So we snatched that puppy up. The dude at the store showed us how to fasten it, and then Peggy and I took Justin off to the side to try and get the new belt on and the old belt off without making him drop trow. AND we succeeded.
Now, we didn't want to ditch the other belt, because it's actually pretty awesome and will work well for other outfits. Brad helped Justin make it last year for Bristol. So I put that bad boy in my arisaid and I didn't even know it was there the rest of the day. AWESOME.
And because I know you're dying to see how awesome Justin's outfit was:
It was wicked hot that day. Like UNGODLY hot. I was so glad I wasn't wearing my comfort gown because I would have died. But Justin, who is more susceptible to heat than anyone else I know (due to the fact that he doesn't sweat - true story), was completely comfortable all day. Yeah for natural fabrics!
In order for Justin to rock a kilt at the
Minnesota Renaissance Festival
this coming weekend, he was going to need a shirt. So I bought some 100% linen, handkerchief weight, with which to make it. I picked up four yards of ivory linen from
Denver Fabrics
for $9.50/yard. They only had ivory, not pure white. Now, when they said "ivory" I assumed they meant "off-white", and I wasn't totally thrilled about that, but it was about $4/yard cheaper than I had seen anywhere else online, and none of the local fabric stores seem to carry that weight of linen, so I went for it. Imagine my surprise when I opened the package and saw that it was as white as I would have expected it to be had I actually ordered it in "white".
I used
Margo Anderson's Elizabethan Gentleman's Pattern
for the shirt, and it worked really well. Because the body of the shirt is comprised of just one loooooong rectangle with a horizontal and vertical slash to make the head hole, it require the use of neck gussets. These are basically triangles stuck in the ends of the horizontal slash to make the head hole more rounded. These are also an enormous pain in my ass. I actually had to go back and rip out some stitches, which pissed me off, because the weave on the fabric is so fine that the needle totally leaves giant holes. Oh well. Hopefully the kilt will cover that part when it's all pinned up.
All-in-all, the process of making the shirt wasn't really that much different from making my smock, with the notable exception of the high-necked collar. But setting the sleeves and everything was the same, and it went together quite easily.
Going into this project, I really wanted to change the way I finished the seams. I don't own a serger, and I don't feel confident that using pinking shears and reinforcing with a zig-zag stitch is going to prevent a really fray-prone fabric like linen from unraveling during washing or even general use. Reading through the manual for the shirt, Margo talked about a period technique of seam finishing called "run-and-fell" seams. Basically, you sew your seam as usual. You take one of the two resulting seam allowances, and trim it down to about 1/8"-1/4" from the actual seam. Take the longer remaining seam allowance, fold it over, and fold it over again, enclosing all the raw edges, and stitch it down.

This is all very well and good if you're going to be hand-stitching everything, but I don't have the time or the inclination to do that, so if I followed the instructions exactly, I'd end up with visible machine stitching on the outside of the shirt in several places. Hems are one thing, but I don't want a line of machine stitches going down the side or up the sleeve. So I decided to modify that method just a bit. I followed the instructions exactly right up to the end, and then instead of stitching the enclosed seam DOWN, I machine stitched it to itself. It actually worked really, really well. This is what it looked like when it was done:




Very neat, very tidy, and very fray-proof. It had the added bonus of not being terribly time-consuming, so that was good.

Here's a closer view:




There was a lot of gathering to be done on this particular garment. There are gathers located at the cuffs, and around the neckline in front and in back. I discovered that the easiest way to deal with gathering, for me, is to lengthen the stitch on the machine to as long as possible, but leave the tension at it's normal spot. Then just use your fingers to hold the fabric down as it's coming out of the machine (instead of feeding out and away from the machine on it's own), and the machine will actually do most of the gathering work for you. So that process ended up being much easier than previous attempts at gathering.




We wanted it to be a little more rustic-ish, so I made ties to go at the neckline rather than using buttons or hook-and-eye closures. It turned out pretty well, although the ties were a complete pain in the ass to make. Note to self - if I decide to make myself a partlet or high-necked smock at some point, use ribbon for ties instead of making my own.

There was a minimal amount of hand-stitching required on this garment - I had to hand-stitch the inside of the collar and the inside of the cuffs. Otherwise I was able to do machine-stitching on everything, which makes life so much better.




And so, now that you've seen all the various components, here's the finished product in it's entirety:




I can't wait to see the whole get-up put together!

In other news, the Tudor Ladies Wardrobe Pattern by Margo Anderson HAS NOT SHIPPED YET. Does this mean that I have abandoned my dreams of making a brown kirtle made from brown table cloths purchased from Shopko on clearance? HELL NO. Because I have come up with Plan B.

I will be utilizing this custom corset generator and accompanying alteration instructions to make myself a kirtle not unlike the one that I made for my friend Darcy (pics and info to follow). Darcy's laced up the front, though, and I plan on making this one lace up the side-back, as per these instructions. I'm thinking that I'm going to knife-pleat the skirt, rather than gathering. I toyed with the idea of having it lace up both sides, but that's going to be a lot of extra eyelets to sew, and I don't have the time. So we'll just stick with a one-sided closure on this one.

Before I can start though, I need Justin to get home from his mom's house so he can take my measurements to put into the corset generator, and I need to buy some nice heavy canvas. I'm going to use, like, two layers of heavy cotton canvas to interline the bodice to make it more supportive. I'm debating boning right now...I'll put in some plastic zip ties where it's going to lace up, but otherwise I think I might just leave it un-boned for now. Maybe I should do a layer of interfacing between the two layers of canvas to give things a little extra oomph...it won't breathe very well, I suppose, but great cleavage is worth the sacrifice as far as I'm concerned.

Current Mood:

cheerful
Once I had Justin's Dominican Friar get-up under my belt, I decided it was time to start something for myself.
I really love the look of the Elizabethan gowns with the fitted bodices and full skirts, but I thought that the techniques necessary to make that happen might be a little bit advanced for a novice like me. I opted instead to make a kirtle and surcoat using the
Elizabethan Comfort Pattern by Margo Anderson
. There aren't many small, fussy pieces, you're sewing mainly in straight lines, there aren't any specific requirement for underpinnings, and best of all, because it isn't fitted, you don't need a dress form.
Once I had the pattern in hand, I headed over to Hancock Fabrics to see what I could find for material and I found the following:
The taupe fabric with the diamond pattern was in the clearance bin. The darker greenish fabric, which is an upholstery weight silk blend, wasn't clearance, but it WAS 40% off so it ended up being only about $8/yd when all was said and done...and I was absolutely in love with it.
My initial thought was that it's olive green. But it really isn't that yellow. But it isn't really brown. It kind of defies description. I didn't bring a swatch with me when I went to pick up the thread for it, and I eyeballed it. I grabbed an olive-ish green. WAY OFF. I brought a swatch when I went to exchange it...and the thread named "Army Drab" ended up being the perfect match. So there you have it.
The whole thing went together quite easily, really. I used store-bought bias tape to finish the neck and armscye on the kirtle.
To save myself some cash, I used an old bed sheet to make the main body of the kirtle. That actually worked well. I was going to use the eye side of some hook-and-eye tape, but then I decided that I'd go whole-hog and hand-sew the eyelets. It was actually a fairly painless process.
I did the eyelets on the armscye of the kirtle an on the sleeves:
And on the back of the kirtle:
I did end up ditching the ribbon for lacing the back in favor of some nice linen cording. Works much better.
The sleeves lace into the armscye like this:
I somehow managed to cut the thing about 6 inches too long...and it seemed to be too long only in the front. I'm 99.99997% sure I didn't cut the maternity hemline, so I don't know what the hell happened. In any event, I had to do some alterations there. I used my friend Jamie as a dress dummy.
Once that was done it was time to move on to the overgown. Once again, a very straight forward process. Everything went really smoothly until I realized that the armscye and front opening were supposed to be finished with bias tape. Well, I'll tell you that there isn't a bias tape manufacturer in creation that makes bias tape in a shade to match my dress. So all of a sudden, here's Jessie, making her own bias tape. It worked out really well though. Margo Anderson's very thorough instruction manual actually included information on how to make your own bias tape. So crisis averted there.
I ended up doing some handstitching in a couple places, like the collar:
And the wings:
And the bias tape on the front opening, which I apparently didn't photograph.
The problem with using the machine on stuff like this is that you'll inevitably end up with machine stitches showing. I'm not militant about historical accuracy, but I do want it to look nice. I used machine stitching on the armscye, and I wasn't about to pick that all out and do it over again, but I did change my technique going forward.
So once that was all done, it was time to fine closures and trim! I kicked around several different ideas for closures, including frogs and buttons with ribbon loops. The frog thing didn't really trip my trigger, and buttons and loops would take too long, so I decided that metal clasps were the way to to go. I found the
perfect ones
at
The Pillaged Village
! The price was way right at a $1/pair, and the antique gold color matched my dress perfectly.
The trim was slightly harder. I looked through about a zillion websites and didn't find anything I really liked, and I couldn't really settle on a color scheme because the dress color was so weird. The selvedge edge of the fabric did give a little bit of inspiration as to possibilities though, so that helped.
I finally stumbled upon
Calontir Trim
. This guy has LOADS of gorgeous trim, and I have to say that his prices are reasonable and he's a very nice guy to work with. I found
this trim
and absolutely fell in love. I ordered 9 yards on the spot.
The borders actually ended up being really well placed, because I was able to use brown thread in the sewing machine and run the line of stitches right next to the border on each side. Can't even see the machine stitches unless your fact is right up next to it. In which case we've obviously got other issues, so....
As a side-bar, I did make myself a corded petticoat and a smock:
It's like posting a picture of my underwear.
I didn't take a picture of the corded petticoat because it's not really worth looking at. I used an old twin-sized bed sheet. I tried numerous different types of rope and cording and really had a hard time getting anything to work right. I finally ended up getting a couple packages of cotton clothesline, and braiding lengths of it together and slipping those lengths into channels sewn onto the petticoat. It gave just enough shape to keep the skirts off my ankles so I wasn't tripping all over myself. It'll do for the time being.
I couldn't very well go traipsing around the Renaissance Faire in this awesome dress and nothing on my head. So I made my best attempt at re-creating the awesome test caul I did before...it went okay. Somehow the seam on the band ended up on the side, and it was a little bit snug...I had to get barrettes to make sure it stayed on. Then I decided to throw together a hat. What I really wanted was an attifet, but I couldn't find a pattern anywhere, so I just did a floppy soft-brimmed hat using this pattern from The Sempstress. I'd post a link, but her site seems to be broken right now. I picked up one of those little baggies of random bits of ribbon at the craft store a while back, so I used some off-white satin ribbon for the hand band.
I pretty much hate this hat with a passion. It's period, but it looks like hell on me. I will not be wearing it again...at least not willingly. I might even go so far as to say that I hate millinery in general. My husband says this is because I didn't have immediate success like I have with everything else I've tried sewing. I say it's because making hats SUCKS. I would seriously contemplate paying someone else to make a hat for me. I really, really hate it.
Here is a picture of the whole ensemble at the Faire:
Pretty sweet, no? I'm very pleased with the end result. I have plans for altering things here and there...but that's a tale for another time.
I haven't been doing a great deal of crafting for the past couple of weeks because I've been rather busy preparing for something completely different.
See, eight years ago, in the spring of 2001 my music-majoring-ass was supposed to give a Senior Recital as the final requirement for attaining a Bachelor of Arts degree in Music. But I didn't do it.
Eight. Long. Years. Ago. Dude.
I can't even tell you what a burden it has been to have this hanging over my head for the better part of a decade. The feelings of failure, embarrassment, shame...it fucking sucked is what it did.
But then this past January something (don't know what) lit a fire under my ass and I decided I was tired of screwing around and I was just going to do it. Despite the fact that I hadn't had a lesson in 7.5 years. Despite the fact that I didn't have a regular teacher. Despite the fact that I didn't even know if I could DO that shit anymore, I was going to do it.
Well, long story short...I did it. This past Saturday, August 22 at 2 p.m. I gave my Senior Recital. Approximately 50 minutes of music in 5 languages, from memory. Prepared in 8 months, with no regular voice instruction. It didn't turn out too badly, all things considered.
This is me, singing 'Come Scoglio' from Mozart's 'Cosi Fan Tutte'. This is probably my favorite...definitely in my Top 2 for the day.
Ya'll, there were about 45 people at my recital. FORTY-FIVE PEOPLE. I figure around 3/4 of them drove an hour or more to get there. Five dear friends from college drove up from their various homes for it. A bunch of my theater people were there. My grandmother came from Michigan. Several people from my chorus were there, some of whom I didn't expect, which was wonderful. My sister and my mom and my dad...it was AMAZING. I am so fortunate in my family and friends.
It's taken this long for me to just decompress and be able to wrap my head around what it is I have accomplished here. Among the positive outcomes: the video camera we bought specifically for the event is fantastic. As you can see, the video and sound quality is quite good for a $180 camera. I also hired a local company to professionally record it for me...
you can download all the tracks here, for free.
Not that I'm operating under the delusion that anybody'd want them, but several of my friends have requested copies of the performance and I figured it wouldn't hurt to post the link in a couple different places.
Another positive: I seem to have acquired myself a voice teacher. I'm excited to start taking regular lessons again.
But I think the best part is...I am FREE FREE FREE to do whatever the hell I want to now when I get home from work! Which means that soon the sewing machine will get dusted off to hem kilts and arisaids, and to make linen shirts, and HOPEFULLY a damn kirtle if that
freaking Tudor pattern
ever ships. If it doesn't get here in another week or two, I think I'm going to have to execute Plan B. I have yet to determine that that is, but I guess I better get thinking.
In other crafting news, my friend Andrea
(aka SpaceOddities)
has convinced me to open an Etsy shop to sell some of the awesome stuff I make. I'm still working on a concept, but it will involve crocheted things. I love crocheting things. In the meantime, you should
go buy some of Andrea's stuff
and
read her blog
because she's awesome and is also giving away free t-shirts with robots and screwed up engrish-french on them. They are full of win.
Current Mood:

accomplished
As I mentioned in my previous post, my husband is not what you would really call a "fan" of dressing up for the Renaissance Faires. Which is weird because
everyone else we know loves it
. So apparently he's this aberrant freak.
Once I figured out that I could really sew, we starting talking about what I could make for him that he wouldn't hate. He insists that he's not a Doublet-and-Slops kid of guy, which is reasonable. Puffy shorts are not for everyone. But I couldn't even get him sold on a doublet and Venetian breeches. Then I was struck with inspiration.
Justin has been talking about dressing up as a Friar for ages and ages, but we could never do anything about it because we didn't have the resources in terms of equipment and ability. So I was all, "OMFG, dude, I'm going to make you a Friar costume, figure out how you want it to be." I thought he'd probably just do your standard
Franciscan Friar
, you know, the dudes in the brown robes. He does some searching around and ultimately shows me this:
St. Dominic. He wants to be a Dominican Friar, aka a "Black Friar", so named for the black cloaks and cowls they wear (but it does sound rather menacing, doesn't it?). Apparently they were quite corrupt and sold salvation for actual money, rather than penance. So you can probably thank them for Plenary Indulgences being taken off the table back in the day. Although I understand that Plenary Indulgences have been reinstated by the Pope, so that's some good news. Anyway, Justin has a soft spot for war-like and/or corrupt personas, so he was very excited about this.
So we set forth to find an appropriate pattern for this get-up. I decided to go with a Simplicity pattern, because "it's so easy, it's Simplicity", which seemed promising. We settled on
this one
, because the cloak had a hood (albeit a pointy one), a cowl and sleeves already, and I figured it would be easy enough to make the minor adjustments necessary to make it into a closed robe, and then in turn a cloak with no sleeves.
I wanted to put Justin in really breathable fabrics, because he's very susceptible to heat and I didn't want him to be uncomfortable. We chose some nice white cotton muslin for the robe and tabard, and then a heavier linen-like fabric that had a really nice drape to it. Justin picked out some white satin to line the inside of his hood, and we got some black cording and some tassles to make him a belt.
The pattern was very straight forward and went together easily. I didn't even have problems setting the sleeves in the armscye. For the white closed robe, I just made the cloak without the hood or cowl. The first slightly sticky wicket was for the front of the robe. If I laid out the pattern as instructed, I would cut it on two layers of fabric, and have two front pieces that I would have to sew together and have a big seam down the front. Even though most of it would be covered by the tabard, I didn't want that. So I doubled over the fabric and cut it on the fold instead,
et voila!
I had a perfect, all-in-one-piece robe front. Another feature of the white robe that the Dominicans wear are the big cuffs on their sleeves. That was easy enough. I cut the sleeves as directed, and then sewed on an extra length of fabric, folded it up and tacked it in place by hand. I thought the seam at the end of the sleeve would look nice, and also be a concrete starting point to make sure that everything was folded up evenly. It worked out perfectly.
The tabard obviously wasn't part of the pattern, but it's really just a long rectangle with a head hole in the middle. I think I may have modified the pattern slightly to make this happen, but I don't honestly remember what I did. Obviously it worked, becuase we have a very respectable tabard.
So once all of that nonsense was out of the way, this is what we ended up with:
Not too shabby for a first effort, if I do say so myself.
So then it was on to the black cloak and cowl. Once again, very straight forward. To make the cloak without sleeves, I just basically sewed the armscye shut. Otherwise, I constructed it exactly as instructed. Until I got to the cowl. The cowl in the pattern turned out to be really small and not at all what we wanted. So I leapt rather than fell into my first pattern drafting experience. I drew out a huge, slightly elongated circle on a piece of muslin, cut it out, cut a hole for his head and a little slash so he had room to get into it. It ended up hanging
perfectly
. Score. So I cut that out and hemmed it. When I made the hood, I rounded off the little point so it was more like a normal hood. It looks better, I think.
And so this was the finished product:
Of course, he needed an awesome staff like St. Dominic's, so we re-purposed this massive wooden curtain rod that used to be in the living room (I knew I saved it for a reason!) and picked up a couple metal crosses on clearance at Hobby Lobby.
The "logo", as it were, for the Dominicans is a fleur-de-lis, so we tried to find something as fleur-de-lis-like as possible. There were some modifications to be made to the crosses in order to get them to fit back to back. There was some
Billy Mays Mighty Putty
involved. Our friend Brad did us a major solid by helping us out with some of the metal-working and by sanding it and finishing it off for us, because he has a garage full of awesome tools (yet he has no cordless drill. WTF.).
I was working on my costume, and the costumes of two other people simultaneously as we were approaching the day we were to head to the
Bristol Renaissance Faire
, so we didn't end up getting his cord belt done, and he couldn't or wouldn't settle on a rosary, but I think he looked FANTASTIC!
Things I would do differently:
I would use a heavier fabric for the tabard than the white cotton muslin. It doesn't hang with the kind of authority that St. Dominic's does. Maybe St. Dominic has a bigger fabric budget than we do. I should be able to re-create it, or double up the fabric on the original pretty easily to get a better drape for next time.
I would flatline the cowl with some of that white satin. Justin said that when in actual use, with moving arms and things, the cowl would get pushed up, and wouldn't slide back down again. This is something easily fixed for next time.
I wouldn't use a linen blend...I'd spend the money and go 100% genuine linen, in a lighter weight. It was a very comfortable temperature the day we were at Bristol and Justin still observed that the cloak was a little heavy, and he was glad it wasn't any warmer outside.
Oh! It's happy fabric time at my house!
I'll be posting about my husband's costumes in more detail as we go along, but it's worth noting here that when we dress up for the Renaissance Faires, my husband is
always
costumed under protest. Trying to get him to come up with something he'd actually like to wear was like pulling teeth, but we did finally have success...more success than I thought possible, actually. He was very keen on the idea of honoring his Grandma Kennedy by wearing the family tartan, and a friend stumbled upon some of that very stuff, so we've decided to make him a
belted plaid, or Great Kilt,
so he can have a Scottish persona. He's got great legs and will look hot as hell in a kilt. Oh yes, I freely admit ulterior motives here.
I decided that I should have a Scottish persona of my own to match, so I started doing some research, and a week or so ago I ordered 3 yards of some nice medium weight wool from
Hamilton Dry Goods
to make myself an
arisaid.
As it would have been inappropriate for women to wear kilts, the arisaid is basically the Scottish woman's answer to the belted plaid. You take roughly 2 1/2 - 3 yards of wool and wrap it around yourself length wise, so the bottom end is about at your ankles. You belt it on, and the top half gets pinned at your shoulder, or you can bustle it in the back. You can then use it as a cloak or a hood if it gets cold or rainy, etc. When you have it bustled or pinned at the shoulder, it also makes big pocket-y things you can keep crap in. A very handy garment, the arisaid.
I read someplace that arisaids were generally lighter in color than men's plaids, because the men required the color in their clothing to serve as camouflage while hunting. I also read someplace (I CANNOT remember where) that arisaids were not usually plaid, but striped.
So I went surfing around and found this beautiful wool:
Now, I'm not sure that it's "period" per se, but I like the colors, the price was right, and quite frankly, I haven't been able to find sufficient information about period/16th century Scottish dress anywhere to convince me that this is completely incorrect. Plus it won't completely clash with my husband's Kennedy tartan.
Here's a close up:
This is actually an excellent picture. You can see the really pale blue horizontal striping, which will come in super handy when it comes time to even out and hem the ends!
I'm thinking that 3 yards is a bit too long though. I'm going to trim off 1/2 a yard to reduce bulk, and then I'll have some extra leftover for something fun. I'm also going to need a belt. DUDE, I have never worn a belt in my freaking life. Maybe I'll just gank one from my husband.
There is some disparate information out there on teh intarwebz as to what is supposed to go under the arisaid. Some sources say that it should just be a leine, which was a long linen chemise, white or saffron in color, with these sort of voluminous sleeves. Other sources say that it should be a smock underneath an a-line skirt with a jacket-style bodice, preferably of a contrasting color to the skirt. I suppose all of this was correct at some period in time - I get the impression that the leine was a more medieval garment. Based on some of the general (and
very
incomplete) information I've gathered about fashion in that period, I feel like I'm well within the bounds of decency to make myself a Tudor-era kirtle. I'll be using the supportive kirtle pattern from the BRAND NEW
Tudor Ladies Wardrobe from Margo's Patterns
. If it ever gets sent out. Word on the street is that Margo is finishing the final draft of the manual and will be sending it to the proofreader this weekend, in hopes of being able to start shipping next week. I hope that's how it goes down, because I have some work to get done between now and September 19th if I'm going to have this get-up ready for the
Minnesota Renaissance Festival.

Current Location:

The messy office

Current Mood:

sleepy

Current Music:

My husband talking to himself
The first costume project I tackled was a caul, using the
Simple Caul pattern from The Sempstress
. It actually turned out pretty well, particularly considering that I had absolutely no idea what to do with my machine to make it do gathering stitches.
I used a scrap of white fabric, most likely retrieved from the remnants bin at the fabric store...I didn't make a mental note of where it came from or what it was since this was just a demo. I essentially wanted to see if I could do it. I didn't even use white thread - for which I'm kicking myself now, because it turn out so well and it actually fits beautifully.
I was pretty impressed with myself over these gathers.
The French seam was a little bit hard to understand at first, until I figured out that you have to turn the caul wrong-side out so it doesn't show.
Finished product on my head.
I'm not really sure what I did with this...I think I might have actually ended up cutting the band on the bias because it's quite stretchy and stays put without pins or combs or anything. Either than or I used stretchy fabric. Since I didn't pay attention to what I was using, the world may never know the answer to this question.
Current Location:

The messy office

Current Mood:

indifferent

Current Music:

Computers humming, keyboard clicking.
...but it never occurred to me to blog about it until this weekend. Seriously. Which is kind of dumb because I seriously could talk about this stuff all day, but I'm pretty sure no one around me gives a shit.
My grandmother taught me to crochet when I was 10 or 12. I built upon the things she taught me and ultimately ended up making this:
This is a little dress, jacket, bonnet and booties that I made for my niece's baby dedication back in 2005. There's also a matching blanket. I actually had to make a second blanket to put into rotation, because it ended up being my niece's favorite. I think she was not quite 2 years old when my sister-in-law asked me to make the spare, and I gave it to her when they came down to our house for Easter. My niece's face lit up like a Christmas tree when she saw it. That was a pretty incredible feeling.
I also really like to do needlepoint, but with those I have a tendency not to finish them. I have at least two unfinished needlepoint projects laying around right now. One is a Christmas sampler. I might get back to that eventually. The other is the birth announcement needlepoint I was making for when my niece was born. In August of 2005. Soooooo yeah, that one's probably not going to get done. It seems a little silly at this point. I'm sure there are others, but it's been long enough that I don't actually remember them anymore.
Not too long ago I decided to add sewing to my skillset, to make the trifecta of crafting awesomeness. I had been wanting to make myself, my husband and our friends some new garb to wear to the Renaissance Faire for a long time, but I didn't have a machine let alone know how to use it. Then one day this past spring my friend Elyssa announced that she was selling her sewing machine because she'd gotten a fancy new one for Christmas. A price was negotiated and delivery date set, and I was the proud owner of a slightly old but well-cared for sewing machine.
My husband taught me how to use it, because evidently the Milwaukee Public School System rocked back in the day. They actually had Home Ec, and that's where my husband learned to sew. I'm like, "The fuck, dude." But he made me little sheets of paper with different shapes on them so I could practice using the machine before I started working with actual fabric. He showed me how to wind a bobbin, and thread my machine, and was generally helpful and a very good husband. I think I will keep him for now.
So once I had that under my belt, I hemmed a pair of dress pants for my husband. I sing with the Philharmonic Chorus of Madison, and I hemmed my concert dress for that. At that point, I decided I was ready to leap into the world of historical costuming.
It is my intention to use this space to chronicle my experiences as I learn and gain skill. I have already completed several projects, which I will share here as time goes on. I hope you enjoy reading about this stuff as much as I enjoy making it.
Current Location:

The messy office

Current Mood:

groggy

Current Music:

Sweet, sweet silence